The Tennessee Renaissance Festival got off to a smashing start with family day on Saturday, May 5. The first weekend was Family and Community Appreciation Weekend and a weekend-long celebration of Mother's Day.
The fair's troupe was decked out in 16th Century garb, and many of the festival goers came in their favorite Renaissance, Lord of the Rings, Robin Hood, pirate, Narnia, or other festival and fairy tale costumes. Since it was family day, many little princesses, fairies and tiny pirates could be seen enjoying the festivities.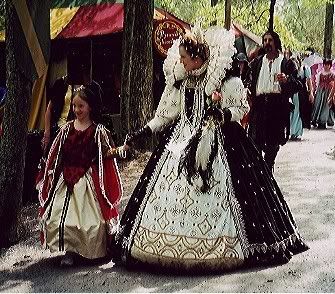 There was lots to see and do, but if you wanted smashing, the jousting fields was where to be where knights on horseback galloped across the tournament field and engaged in battle.
For tamer fare, there was a tour of Castle Gwynn, music, comedy, food, juggling, knife throwing, games of skill, man-powered rides and more, and there was shopping! in the Renaissance Marketplace. Over 60 skilled Artisans from all over the country displayed their wares from silks to swords; from gems to jewels.
A special highlight was the fair's Queen Elizabeth knighting the children in the name of St. Michael, St. George, and the Lord our God.
• 2016 Running Dates for Nashville's premier historical entertainment event:
May 7, 8, 14, 15, 21, 22, 28, 29, plus Memorial Day May 30!
• Hours: 10am - 6:00pm
• Free parking, and free admission for children 5 and under!
For more information, visit http://www.tnrenfest.com/
Related:
• Family-Friendly Tennessee Renaissance Festival Off to a Festive Start
• 23rd Tennessee Renaissance Festival at Full Tilt
• Tennessee Renaissance Festival Entertains the Young and Young at Heart
Tennessee Renaissance Fest Fun for the Family www.christianactivities.com/renaissance-fest-fun-family
Join the discussion on Facebook




Use this link to shop Amazon.com and support Christian Activities