Actor Don Knotts, best known for his role as Barney Fife on the television program "The Andy Griffith Show," was born Jesse Don Knotts on July 21, 1924 in Morgantown, WV. He was the youngest of four sons born to Elsie L. Moore and William Jesse Knotts. His father, who suffered from schizophrenia and alcoholism, had a nervous breakdown, and lost the family farm before Don was born. Knotts' father passed away when Don was only thirteen years old.
When he was nineteen years old, Knotts joined the Army, serving in World War II as part of the Special Services Branch in a GI variety show called "Stars and Gripes." After the war, Knotts returned home where he graduated from West Virginia University with a degree in theater in 1948. Moving to New York, Knotts appeared on the soap opera "Search for Tomorrow"before moving to Steve Allen' variety show in 1956 where he developed his �nervous man� routine. Knotts also scored the small role of the psychiatrist in a Broadway play called �No Time For Sergeants� which starred up-and-coming young comedian, Andy Griffith.
In 1958, Andy Griffith starred in the film No Time for Sergeants where Knotts continued his role, and when Griffith was given his own series playing the sheriff of Mayberry in 1960, Knotts called Griffith and asked if Griffith wouldn�t need a deputy. That was when television history was made as Griffith soon gave up his own comic lead in favor of playing straight man to Knotts� antics.
America came to love the wise, fatherly sheriff and his bumbling but good-hearted deputy, and Knotts earned five Emmy Awards for the role. Griffith and Knotts became fast friends on the show, and Knotts appeared on several episodes of Griffith�s later series, Matlock between 1987 and 1995 as well as on the television movie Return to Mayberry in 1986.
After Mayberry, Don Knotts went on to a successful career in films in the 1960s and 1970s. He returned to television as swinger-wannabe landlord Ralph Furley on "Three's Company" in the late 1970s, and continued in film and television work until shortly before his death on February 24, 2006. Knotts died at the age of 81 from complications related to lung cancer. His old friend and costar Andy Griffith was at Knotts' bedside up until a few hours before he died.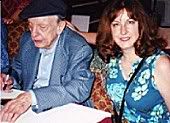 The author with Don Knotts in 2004
From our archives 7/21/6
RELATED ARTICLES & LINKS:
Mourning America's Favorite Deputy

West Virginia Honors Don Knotts

Don Knotts to be special guest at Mayberry reunion in Nashville

Interview with the Mayberry Deputy

Christian Activities Mayberry Forum


Live in Tennessee? Love TAGS? Click to subscribe to TennesseeTAGS
Back to Christian Activities Mayberry Section


Live in Tennessee? Love "The Andy Griffith Show?" Click to subscribe to TennesseeTAGS



Swag out with Christian Activities Merchandise!