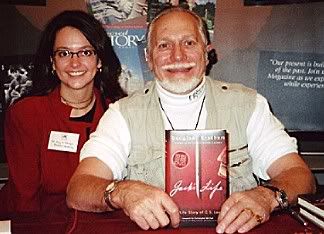 Past Watchful Dragons organizer Dr. Amy Sturgis with Douglas Gresham
The Past Watchful Dragons Conference held at Belmont University this past weekend was well worth attending. Seminars covered C.S. Lewis, his works, his contemporaries (like J.R.R. Tolkien) and his faith. A wide variety of speakers presented papers on different topics with seminar tracks allowing attendees to find their own special C.S. Lewis interests.
Seminars were only part of the three-day event. Thursday's highlight was an excellent dinner speech given by Douglas Gresham, stepson of C.S. Lewis and guest of honor at the conference. See Stepson of C.S. Lewis Talks about Narnia.
Friday was not only full of seminars but also featured a performance by actor David Payne.
Saturday brought the final seminars, a Glass Hammer concert in the afternoon, and the piece de resistance, the enthralling Lord of the Rings Symphony performed by the Nashville Symphony. See Nashville Symphony Scores with Lord of the Rings.
The conference was not only educational and entertaining but timely in its tie in with the upcoming The Lion, the Witch and the Wardrobe movie. High marks go to Belmont University for putting on such a fine event.
Buy The Lion, the Witch and the Wardrobe on VHS!


Related Articles & Links:
Past Watchful Dragons at Belmont University


CS Lewis - Back Into the Wardrobe


The Lion, The Witch, and the Wardrobe at Lamplighter Theater


Chronicals of Narnia Discussion Group
Lord of the Rings Tennessee Fellowship