Find The Lord of the Rings and everything Tolkien at Tolkien Town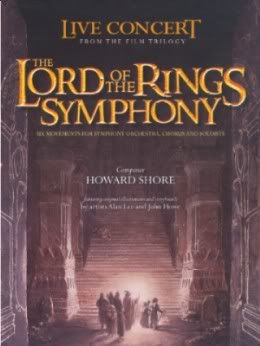 Led by guest conductor Markus Huber, more than 200 members of the Nashville Symphony and Chorus performed in Saturday's Lord of the Rings Symphony at Belmont University's Curb Event Center on November 5. The multi-media event also featured a boys chorus and vocal, instrumental soloists and the outstanding talents of 16-year-old vocalist Kaitlyn Lusk as well as the conceptual art work of Alan Lee and John Howe. The concert was part of the Past Watchful Dragons Conference.
Inspired by the legendary books written by J.R.R. Tolkien, the symphony was adapted from the award-winning movie scores composed by Shore for the Lord of the Rings films. The Lord of the Rings Symphony weaves original whimsical Celtic folk melodies with classical motifs to create a rich, even exotic musical tapestry.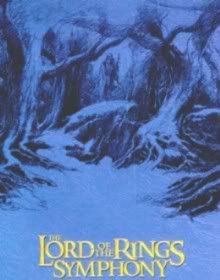 It might appear a daunting task to take the lighthearted Hobbit theme, blend it with the dark music of the Nazgul while mixing in the martial "huhhuhhuhhuh" vocals of the Orcs to create something almost mesmerizingly beautiful, but Shore succeeded and the Nashville Symphony delivered. The evocative, ethereal vocals of Kaitlyn Lusk were absolutely beautiful throughout, especially during "Into the West." I was moved beyond words by the performance.
Unfortunately, what was almost a perfect event was marred by the lack of manners displayed by some of the concert goers. The Nashville audience seemed determined to live up to the hillbilly stereotype Nashville sometimes struggles with. In an excruciatingly embarrassing exhibition of gaucheness, the audience kept arriving in loud droves after the concert started. In fact, Markus Huber brought the entire performance to a halt while the assembled orchestra, chorus, boys chorus, vocalists and the rest of the audience, who had the decency to arrive on time, waited for the tardy, talkative throng to come in and take their seats. Finally, the symphony resumed... as more late-comers continued to arrive. Twenty minutes after the performance began, four girls arrived to take the seats next to me and asked my group to get up and move down so the fourth girl could squeeze in. I have never seen a symphony have to stop its performance to accommodate people too self-centered or disorganized to arrive on time. To those people I would say, "Do us all a favor and get a watch...and check out a copy of Miss Manners at your local library."
Buy The Lord of the Rings books and CD's

Related Articles & Links:
Past Watchful Dragons Conference Earns High Marks


Stepson of C.S. Lewis Talks about Narnia



EMI and Walt Disney Studios to Release Projects Inspired by The Chronicles of Narnia


Music Inspired by: The Chronicles of Narnia


Past Watchful Dragons at Belmont U.


Chronicals of Narnia Discussion Group




Find Celtic music and jewelry at Tolkien Town