Gaylord Opryland(r) Resort and Convention Center has announced it will provide devoted fans of Nashville Star with a rare opportunity to spend an evening with the remaining contestants. The event, held on April 6, will give fans the chance to be part of the excitement of this popular show which airs on the USA Network. The current crop of Nashville Star contestants will take to the stage at Gaylord Opryland's Delta Fountain area and perform for the fans. The fun commences at 6:30 p.m. as the contestants interact with fans through a "meet and greet." To prepare for the following week's episode of
Nashville Star, the contestants will then each perform an original song
in front of a live audience beginning at 8 p.m. This event is FREE and
open to the general public. No ticket or reservation is required, and
seating will be available on a first-come, first-served basis. Parking
not included. The event will be taped for inclusion in the episode
airing on USA Network on April 11 at 10p.m./9p.m. Central.
3/24/6 Legendary guitarist, Grammy nominee and Dove Award winner Phil Keaggy will be a featured guest on "The Brian Mason Show" this Sunday, March 26, 2006 at 8:00 a.m. CST. The show airs live on Nashville's Mix 92.9 FM on Sunday mornings from 6:00 a.m. - 10:00 a.m. CST, reaching more than 20,000 people in the metro Nashville area. More Phil below!
3/23/6 Enjoy an evening with the Martins at North Side Baptist Church inMurfreesboro on Saturday, March 25th at 6:00PM. A few Artist Circle Seats are available for $20 and include a "Meet n' Greet" after the concert. General Admission tickets are only $15. Tickets will be available at Northside Baptist Church and local LifeWay stores.
3/22/6 Phil Keaggy is readying for the May 2, 2006 release of his newest album, Jammed!, an instrumental album spanning three decades of Keaggy's work.
Muriel Anderson's latest album, Wildcat (CGD Music), is scheduled to release to the CCM market in late summer 2006.

3/21/6 Northern Records artist Kevin Max has launched his 40-city Walking the
Imposter Tour, with 2 upcoming stops in Nashville: Kevin and special guest
Brennan Strawn play Nashville's Exit/In on March 28th, followed by a Gospel
Music Week performance at NV on April 4th.
Worship leader Brett Rush has signed with Nashville-based TAG Artist Group. His debut CD "Invitation" will be released in June.
New rock outfit Viktor is currently in the studio recording their debut CD.
The band may be new, but the line-up is definitely All-Star! Viktor is
comprised of veterans Louie Weaver (Petra), Jimi Bennett (King James), Terry
McCollam (Ruscha), Shane Regal (Messiah Prophet) and bass player Tommy
Brown. Their debut CD, produced by Petra's John Lawry, drops this fall.
Michael Card has a new CD coming out April 18 called The Hidden Face Of God.
The Original First Call's new CD called Rejoice: A Cappella Hymns is coming out May 16.
RKT Music President Don Donahue recently announced the signing of Nashville-based band The Turning to the recently-formed imprint. The four-piece modern rock band, which is originally from Chattanooga, Tenn., will release its debut CD, Learning to Lose on June 6. The Turning formed in Chattanooga, Tenn., five years ago when members Matt Warren (guitar), Jeremy Little (bass) and Jeff Goff (drums) began playing and writing music in each others' garages. Raised in the church or on the mission field, all three were serving on worship teams in their respective churches but were looking to do more with their musical gifts. When it came time to pursue a lead singer, Warren spoke with his best friend, singer/songwriter Jacob McGinnis, who was studying music business at Middle Tennessee State University. McGinnis' engaging melodies, introspective lyrics and driving vocal combined perfectly with the tight, rock instrumentation the other members were already perfecting. Together, The Turning creates thought-provoking modern rock music.
Margaret Becker has just released a new book, Coming Up For Air on Nav Press.
GRAMMY winning producer Jason Burkum produced the new Pivitplex album, The King In A Rookery which released in February 2006, the album contains 13 new original tracks.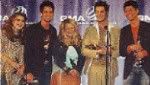 3/3/6 The unstoppable Crabb Family recently completed their brand new project, Blur The Lines. The release features the powerhouse vocals, which have drawn fans from around the world, on 13 mega hits. Jason, Adam, Aaron, Kelly and Terah selected songs for the project based on their favorite all time hits from southern, praise & worship, gospel, contemporary and classic hymns. The first single, "Nothing But The Blood," can be found playing on radio stations nationwide. GRAMMY winning producer, Nashville's Bubba Smith, alongside of the Crabb siblings produced the project, which will be available on March 28th.
3/1/6 The vibrant and extremely talented, Annie Moses Band, will be teaching Middle and High School students Neo-Classical Music through playing and singing on Thursday, March 2, 2006. The class will be taught through Vanderbilt University Virtual School and the two sessions, at 9:00 and 10:30 am, will be presented through videoconferencing. The sessions will be followed by a Q&A period with students from three different high schools throughout the United States.
Chonda Pierce returns to the comedy stage on March 28th with the release of her most candid DVD to date, A Piece Of My Mind. In support of the DVD, her current tour, new website, and turning a year older, Pierce is celebrating with an online birthday bash. Fans can join Chonda live for cake, ice cream, party favors and presents from 8 to 8:30 pm (central) at http://www.chonda.org,`and then at 8:30 Chonda will talk with fans on her first ever live online chat! Filmed in her hometown of Murfreesboro, Tenn., Pierce felt comfortable sharing her recent bout with depression alongside her always humorous take on the wacky world of womanhood. Sprinkled throughout the show are several musical numbers, which includes a 60-piece choir. "Music has always been the parenthesis for what I'm talking about," Pierce grins. "This time we taped this project at my home church and an entire choir helped put the last parenthesis on the night!"


2/1/6 The GMA Music Awards show will be presented on April 5, 2006 at the Grand Ole Opry House in Nashville and will be hosted by Franklin and St. James. The awards show will then be televised in national syndication April 15 to May 1, 2006. Details at: GMA Music Awards Nominations Announced
Check for concert dates on our CALENDAR).
Buy products from these artists on SALE at the CHRISTIAN ACTIVITIES MUSIC & BOOK STORE



Swag out with Christian Activities Merchandise!



Visit the CHRISTIAN ACTIVITIES MUSIC & BOOK STORE