Featuring: Jaci Velasquez, Salvador, Jars of Clay, Tana Lonon Agency. Nashville Flood Relief events will be marked *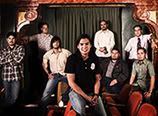 * Two of gospel music's favorite artists, Jaci Velasquez and Salvador, are uniting for a concert for Nashville flood relief on Saturday, June 5th at the Trinity Music City Auditorium in Hendersonville, Tennessee. The free concert is being taped for an upcoming broadcast special and DVD release.. Details at Jaci Velasquez and Salvador hold Nashville flood relief concert June 5.
* 6/1/10 In an effort to help those who have lost everything, Jars of Clay has put together an EP with five different versions of the song, "Flood." The EP is available for $1 and 100% of the proceeds from your purchase will go directly to charities aiding in flood relief efforts in the Nashville community, administered by MusiCares Nashville Flood Relief. Their goal is to raise $100,000.
The Tana Lonon Agency announces their relocation to Nashville, TN from Florida.
Christian Activities is on Facebook at:

Christian Activities Group

Christian Activities Page
Christian Activities is on Twitter at ChristianActs
Check for concert dates on our CALENDAR
Visit the Christian Activities Music Store

Use this link to shop Amazon.com and support Christian Activities