Singer-songwriter Sarah Sadler releases her sophomore record, Where It Started, the follow-up release to the 2002 self-titled debut release on Nashville-based Essential Records.

People are starting to notice clips of part-time Nashville resident and full-time Christian sword swallower Dan Meyer showing up on promos for "America's Got Talent!" Clips of Meyer swallowing a sword have shown up on ads for the AGT show as well as on "Jimmy Kimmel Live" and on "The Today Show." Wonder when we'll see Dan actually performing on AGT? Watch this Tuesday night and find out!

6/24/8 Folks attending the Terry and Carmen Thompson Benefit at The Factory at Franklin on Tuesday, June 24 will enjoy some of Nashville's best musical talent, including Amy Grant, Ed Bruce ("Mamas Don't Let Your Babies Grow Up To Be Cowboys") and Marcus Hummon ("Bless the Broken Road"), they'll also have a chance to bid on an impressive array of donated items, such as breakfast with Dierks Bentley, a football autographed by Vince Young, paintings, gift certificates and more.
6/16/8 Chattanooga, Tenn.-based rock quintet, Nevertheless, will release its second studio album, In the Making…, on September 16, 2008. The eleven-track project was produced by Rob Hawkins (Fireflight, Jackson Waters), and was recorded in Nashville, Tenn., between March and April of 2008. "Sleeping In" is the first radio single from In the Making…, which is currently at CHR radio. While showing heart and expressing hope may not be new to Nevertheless' lyrics, In The Making… is a different and more accessible approach of expression. "I would say the biggest difference, lyrically, is that we pulled even more from our own experiences on In the Making...," shares lead singer, Joshua Pearson. "On this record, every single song has at least a few lines that hit very close to home."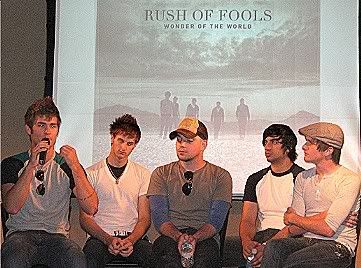 6/13/8 Rush of Fools was the special guest at an industry luncheon held at the EMI building in Brentwood today. The five young men from Alabama discussed their motivations and the reaction of fans and loved ones to their sophomore project, Wonder of the World, between selections which were played from the project. They also discussed their new ministry partner, Freedom Begins Here, an organization which deal with pornography addiction within the church and which inspired the song "Freedom Begins Here" included on the project. Wonder of the World releases September 16, 2008.
6/6/8 Multi-platinum and award-winning artist TobyMac premiered "Alive and Transported" in Nashville last night, to a crowd of over 500 industry friends and family.
6/4/8 The Presidential Debate scheduled for Nashville will draw on undecided voters from the region to help question the Democratic and Republican party nominees. The Oct. 7 debate at Belmont University will use the town hall format. Gallup pollsters will identify about a hundred voters who haven't picked a candidate to support to help pose questions. Belmont President Bob Fisher said the debate presents an opportunity to "showcase" the university and the city. More than 2,500 members of the news media are expected to cover the debate.
6/3/8 The 14th Annual Inspirational Country Music Award Show (ICM's) will be held on Thursday, October 16, 2008, at 7 PM CST at the Trinity Music City USA Auditorium located in Hendersonville, Tennessee. Grammy award wining group, The Isaacs, will perform and multi-platinum recording artist, Collin Raye, will host the awards show. The annual Inspirational Country Music Awards are dedicated to honoring and showcasing the biggest names and emerging talent among artists who perform Christian and Inspirational Country music. Christian Country music is inspired by Faith, Family, and Country.
Visit the Christian Activities Music Store
Check for concert dates on our CALENDAR.
Christian Activities is on Twitter atChristianActs

Use this link to shop Amazon.com and support Christian Activities