Wayne Watson, multiple-award winner, former Male Vocalist of the Year,
and singer/songwriter of such classics as "Friend of a Wounded Heart,"
"Watercolour Ponies," "Somewhere in the World," "Touch of the Master's
Hand," and many more, will be making a rare Nashville concert appearance,
Wednesday, July 23, at Christ Presbyterian Church.


7/2/8 Christian sword swallower Dan Meyer, who tried out for "America's Got Talent" here in Nashville, has passed the Nashville and Atlanta auditions and is headed to the next round in Las Vegas! Congratulations, Dan!
7/1/2 Part-time Nashville resident and full-time Christian sword swallower Dan Meyer appeared on "The Today Show" this morning promoting tonight's showing of "America's Got Talent" on NBC.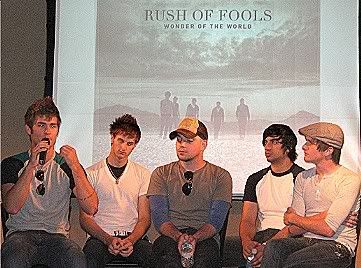 Rush of Fools will release their sophomore project, Wonder of the World, on September 16, 2008.
Chattanooga, Tenn.-based rock quintet, Nevertheless, will release its second studio album, In the Making…, on September 16, 2008. The eleven-track project was produced by Rob Hawkins (Fireflight, Jackson Waters), and was recorded in Nashville, Tenn.
The Presidential Debate scheduled for Nashville will draw on undecided voters from the region to help question the Democratic and Republican party nominees. The Oct. 7 debate at Belmont University will use the town hall format. Gallup pollsters will identify about a hundred voters who haven't picked a candidate to support to help pose questions. Belmont President Bob Fisher said the debate presents an opportunity to "showcase" the university and the city. More than 2,500 members of the news media are expected to cover the debate.
The 14th Annual Inspirational Country Music Award Show (ICM's) will be held on Thursday, October 16, 2008, at 7 PM CST at the Trinity Music City USA Auditorium located in Hendersonville, Tennessee. Grammy award wining group, The Isaacs, will perform and multi-platinum recording artist, Collin Raye, will host the awards show. The annual Inspirational Country Music Awards are dedicated to honoring and showcasing the biggest names and emerging talent among artists who perform Christian and Inspirational Country music. Christian Country music is inspired by Faith, Family, and Country.
Visit the Christian Activities Music Store
Check for concert dates on our CALENDAR.
Christian Activities is on Twitter atChristianActs

Use this link to shop Amazon.com and support Christian Activities