After a hard-fought, three-year battle with multiple myeloma, a cancer of the plasma cell, acclaimed author/speaker Janice Chaffee died Friday morning, Feb. 16, in her middle Tennessee home. Her husband of 26 years, Jim Chaffee, was by her side. In addition to Jim, Janice is survived by her mother, Bobbie Cantrell, sons Elliott, 23, and Taylor, 21, and a host of extended family and friends.
A memorial service is scheduled for Wednesday, Feb. 21, at St. Bartholomew's Church in Nashville, Tenn., with a reception to follow. In lieu of flowers, the family has asked that donations be made in Janice's name to The Multiple Myeloma Research Foundation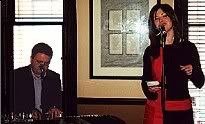 2/7/7 Turning Point Media Relations hosted a luncheon today at Merchants Restaurant to introduce Keith & Kristyn Getty, Ireland's premier modern hymn composers. The couple performed three hymns from their new project "In Christ Alone."
2/1/7 Christian Activities Publications is now on MySpace. If you are on MySpace and want to connect with us there, please go to our MySpace page at: Christian Activities Publications

The 38th Annual GMA Dove Awards (www.doveawards.com) will be presented on Wednesday, April 25, 2007 (8:00-10:00 p.m. CST) at the Grand Ole Opry House in Nashville, Tenn., hosted by Dove-winning artists Natalie Grant, Brian Littrell and Donnie McClurkin and broadcast in national syndication during the month of May.
The original Nashville Star Search - Trowbridge Symposium enters its new season at Gaylord Entertainment Center. Scheduled for July 20 - 23 2007, the event is Nashville's oldest career workshop and artist showcase event for all styles of music. Songwriters, singers, and bands compete for prizes and are judged by industry representatives from record labels, publishing companies, and talent agencies. Prizes include recording sessions on Music Row, a publishing contract, and a music video with TV exposure. Visit nashvillestarsearch.com for details.
Check for concert dates on our CALENDAR.
Buy products from these artists on SALE at the CHRISTIAN ACTIVITIES MUSIC & BOOK STORE



Swag out with Christian Activities Merchandise!



Visit the CHRISTIAN ACTIVITIES MUSIC & BOOK STORE

Use this link to shop Amazon.com and support Christian Activities