Reigning three-time Gospel Music Association Male Vocalist of the Year, best-selling worship leader Chris Tomlin recently celebrated the upcoming release of his fifth studio project, Hello Love (Sept. 2), his No. 1 single "Jesus Messiah," and the RIAA Platinum Certification of both his 2004 release, Arriving and the RIAA Gold Certification of 2006's See the Morning at a packed party at Ocean Way Studios in Nashville. In addition to sixsteps/Sparrow Records presenting him with the Platinum and Gold records, special guests speaking including sixstep's Louie Giglio and EMI-CMG's Peter York, while Tomlin performed for the crowd full of family, friends and industry VIPs.
8/19/8 Make sure to watch the next live episode of America's Got Talent in LA next Tuesday, August 26th to see if Christian sword swallower Dan Meyer makes it through to the Finals!
8/13/8
Munce Group prepares for upcoming Nashville CPE. According to a press release issued by the Munce Group, more than 300 retailers, representing over 160 independent Christian stores, and 80 product vendors, representing nearly 100 product lines, will gather at the Sheraton Music City, Nashville, TN, Sept. 7-9 for CPE. Hosted by the Munce Group, CPE offers its members a 48-hour program that includes worship, workshops, exhibit floor, supplier presentations, evening showcases, and Bible conference on Sunday afternoon.

8/8/8 Christian sword swallower (and Celtic musician) Dan Meyer was just selected as one of eight Wildcard Acts on "America's Got Talent" last night, which means now America votes on which one makes it to the finals. Here's the link to vote for Sword Swallower Dan Meyer on America's Got Talent. Voting rules: Out of eight Wildcard Acts, you can vote for the one you feel should be included in the top 40 going to the finals of "America's Got Talent." To vote for YOUR favorite Wildcard Act, please visit www.NBC.com/AmericasGotTalent or www.NBC.com/AGT. The online vote opened at 11:00pm ET on Thursday, August 7, 2008, and ends at 4:00pm EST (5pm CST) on Friday, August 15, 2008. Read Dan's devotional, Swallowing My Pride.


8/6/8 Congratulations to Dan Meyer, the Christian sword swallower (and part-time Nashville resident), who impressed the judges during the semi-finals of "Amemrica's Got Talent" last night and may be headed to the L.A. finals! The enthusiastic judges said Dan "stepped up his game." More Dan below.
The 3rd Annual Path & Pen Conference explores writing as a spiritual practice in the serene gardens and gothic halls of Scarritt-Bennett Center. The conference is a hands-on encounter with various forms of spiritually oriented writing, including poetry, liturgy, inspirational writing and journaling.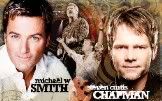 8/5/8 Two GRAMMY® award-winning and multi-Platinum selling artists, Michael W. Smith and Steven Curtis Chapman, join forces for the "The United Tour" which kicks off October 9 in Columbus, Ohio and concludes in St. Augustine, Florida on November 8.
Part-time Nashville resident and full-time Christian sword swallower Dan Meyer can be seen competing on "America's Got Talent" this summer on NBC. Catch it tonight!
8/1/8 Chattanooga, Tenn.-based rock quintet, Nevertheless, will release its second studio album, In the Making…, on September 16, 2008. The eleven-track project was produced by Rob Hawkins (Fireflight, Jackson Waters), and was recorded in Nashville, Tenn.
The Presidential Debate scheduled for Nashville will draw on undecided voters from the region to help question the Democratic and Republican party nominees. The Oct. 7 debate at Belmont University will use the town hall format. Gallup pollsters will identify about a hundred voters who haven't picked a candidate to support to help pose questions. Belmont President Bob Fisher said the debate presents an opportunity to "showcase" the university and the city. More than 2,500 members of the news media are expected to cover the debate.
The 14th Annual Inspirational Country Music Award Show (ICM's) will be held on Thursday, October 16, 2008, at 7 PM CST at the Trinity Music City USA Auditorium located in Hendersonville, Tennessee. Grammy award wining group, The Isaacs, will perform and multi-platinum recording artist, Collin Raye, will host the awards show. The annual Inspirational Country Music Awards are dedicated to honoring and showcasing the biggest names and emerging talent among artists who perform Christian and Inspirational Country music. Christian Country music is inspired by Faith, Family, and Country.
Visit the Christian Activities Music Store
Check for concert dates on our CALENDAR.
Christian Activities is on Twitter atChristianActs

Use this link to shop Amazon.com and support Christian Activities