Featuring: Jonas Brothers, Everlife, Ultimate Talent Search, Paramore, Acappella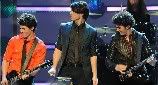 The Jonas Brothers and Everlife in concert TONIGHT at the Sommet Center! Details below!
8/18/9 The Jonas Brothersare returning to Nashville's Sommet Center on Tuesday, August 25, 2009 7:00 pm. The Jonas Brothers are on tour for their latest recording, "Lines, Vines and Trying Times." When the JoBros were here in January, not only did they pack out the Ryman, but they brought along a few friends including Amy Grant, Vince Gill, Michael W. Smith, Steven Curtis Chapman, Jordin Sparks, Martina McBride, and Brad Paisley. It will be interesting to see who shows up this time!
8/3/9 Embassy Music has announced a deadline of August 7 for artists and songwriters to register for the 15th Annual Ultimate Talent Search competition. The event will be held September 5, 2009 at the Opryland Hotel in Nashville, Tennessee. Recent finalists include: Robert Mauti, Brandon Green, and Leeland.
8/1/9 Paramore's third album, Brand New Eyes, is set to be released on September 29, 2009. Paramore's gospel fans are eager to discover if more of Paramore's gospel roots will be showing on Brand New Eyes. For more on Paramore see The Gospel According to Paramore.
Oklahoma Christian University (OC) has reached an agreement with the Acappella Company that will move members of the popular Christian vocal group Acappella to the OC campus this fall. The company's headquarters will remain in Goodlettsville, Tennessee.
More gospel music news at Nashville Gospel Music Examiner
Visit the Christian Activities Music Store
Check for concert dates on our CALENDAR.
Christian Activities is on Twitter atChristianActs
Christian Activities is on MySpace at:




Swag out with Christian Activities Merchandise!

Use this link to shop Amazon.com and support Christian Activities