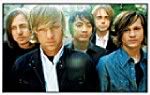 Featuring: Matt Hammitt, Rodan + Fields, Downhere, Casting Crowns, Sanctus Real, The Afters, Steven Curtis Chapman, Dukes of Hazzard, Switchfoot, Kevin Max, Yolanda Adams, Gary Chapman


8/30/11 Michael W. Smith Releases 2nd Instrumental, 23rd Studio Album Available Nov. 22
Michael W. Smith's 23rd career studio album and 2nd instrumental project will be available on Nov. 22.
8/27/11 Meet Patricia Alice Albrecht -- Pizzazz on 'Jem and the Holograms' - Patricia Alice Albrecht will speak at the monthly meeting of the Belle Meade Plantation Belles Doll Club on Sept. 1.
8/15/11Matt Hammitt of Sanctus Real to release first solo project in September - Matt Hammitt, the lead vocalist from the multiple GRAMMY-nominated, Dove Award winning Christian band Sanctus Real, has just announced the release of his first solo album, "Every Falling Tear," on Nashville's Sparrow Records September 13, 2011.
Rodan + Fields Regional Sales Director Bobbie Silva in Nashville August 22 - Rodan + Fields Dermatologists is holding several meetings in Nashville in August, including a special TN Project event on Monday, August 22 at the Cool Springs Marriott in Franklin. Contact skin_and_health@Yahoo.com for details.
8/10/11Downhere teams with Mark Hiemermann on new album 'On The Altar Of Love' - Nashville's Grammy and Dove award-winning producer Mark Hiemermann (Michael W. Smith, Tait, Stacie Orrico) has once again teamed up with one of Christian music�s premiere bands, Downhere, to produce their anticipated new studio album, "On The Altar Of Love," due on August 23, 2011 on Centricity Music.
8/5/11Casting Crowns 'Come to the Well' tour with Sanctus Real, The Afters - Casting Crowns will launch their 'Come to the Well' tour with Sanctus Real and The Afters on September 22.
8/2/11 Dukes of Hazzard fans rejoice -- DukesFest is back as Hazzard Homecoming - Hazzard Homecoming takes place August 13 and 14.
8/1/11 Steven Curtis Chapman to release 17th album in August - Nashville gospel music legend Steven Curtis Chapman announces his upcoming 17th album, �re:creation,� coming out on August 9.
Switchfoot to perform new single 'Dark Horses' on Jimmy Kimmel Live on Sept. 19
Gospel Music 101: What gospel artists were born in August? Kevin Max, Yolanda Adams, Gary Chapman... - August birthdays of Christian artists include: Kevin Max, Yolanda Adams, Gary Chapman and more.
Christian Activities is on Facebook at:

Christian Activities Group

Christian Activities Page
Christian Activities is on Twitter at ChristianActs
Check for concert dates on our CALENDAR
Visit the Christian Activities Music Store

Use this link to shop Amazon.com and support Christian Activities