Local Hispanic Churches are joining together to present an evening of PRAISE
AND WORSHIP at the Gaylord on Friday night September 9, 2005 - doors open at 6 PM and the musical extravaganza begins at 7 PM. Entrance is FREE! The evening events will be presented in Spanish and English and the intent is to bring us all together under one roof to praise and glorify the name of our
God.
Three-time Grammy Award-winning gospel group The Mighty Clouds of Joy have announced that they will film their upcoming In The House of The Lord Live video release in downtown Nashville. The piece celebrates the success of their debut EMI Gospel album In the House of the Lord: Live in Houston, and will feature in-concert performances of songs from the chart-topping CD. The project-which will be available in both DVD and VHS format -will release November 22, 2005. The Mighty Clouds of Joy will record the live footage during a special concert at the Global Café (322 Broadway, 615-726-2952) in Nashville, Tenn. on Monday, August 29. The concert is free and open to the public and will kick off at 7:00 p.m. CST.
8/23/5 The Mother, Daughter and Friends event, SHE, featuring Rebecca St. James and Evie will take place on Thursday, September 22nd at 7pm at the People's Church in Franklin. Tickets are available at area LifeWay, Family Christian Stores, and People's Church Atrium Bookstore.
September's FREE Music at the Mills concert features Chris Rice on a special night and time. Join Chris Rice on Thursday, September 1st at 7pm on the Entertainment Stage at Opry Mills for a great time.

8/22/5 Word/Curb Records multi-Platinum recording pop artist Jaci Velasquez will appear this Saturday, August 27 at Hecht's Rivergate in support of the M·A·C AIDS Fund. Hosted by M·A·C Cosmetics, Velasquez will be visiting the Hecht's cosmetics area from 1:00 – 3:00 PM to bring awareness for M·A·C's campaign to help men, women and children with or affected by AIDS. The renowned artist will additionally be signing autographs for her current acclaimed album, Beauty Has Grace..
Rocketown Records and Watermark's Nathan and Christy Nockels invite you to join us this Thursday night, Aug. 25, for a special night of music and worship as the Nockels mark the end of a season and bring their time as Watermark to a close. This event, which will include friends from throughout their career, will be recorded for an album release next February. This is a ticketed event, with proceeds benefitting the Nashville Rescue Mission.
8/19/5 Grand Ole Opry regulars the Crabb Family will perform on the legendary Grand Ole Opry stage on Saturday, August 20, 2005. Jason, Adam, Aaron, Kelly and Terah are set to treat Opry audience members to signature Crabb Family hits during two separate sets throughout the night. The family will share the stage alongside of country greats and Opry legends Porter Wagoner, the Whites, T. Graham Brown, Billy Walker, Riders In The Sky, Little Jimmy Dickens, Jeannie Seely, among others.
8/17/5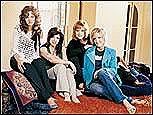 Music City PraiseFest, featuring Point of Grace, will take place September 3-5, 2005 at Gaylord Opryland. Plan your Labor Day getaway to Music City PraiseFest and experience 2 days of inspirational music set amidst the beauty of our world-class resort setting. Ticket Information is available by calling 1-888-777-OPRY (6779)
8/4/5 Critically acclaimed singer/songwriter/multi-instrumentalist John Davis has been nominated for the Nashville Scene Music Festival 2005. The inaugural festival event will be held on September 24, 2005 and celebrates the creative diversity of Nashville, Tenn., which is affectionately referred to as "Music City." Readers are given the opportunity to vote for their performer of choice by visiting http://www.nashvillescene.com/NSMA_Ballot/index.shtml through August 17, 2005. The top choice in each category will be invited to play at this year's festivities.
8/3/5 This coming Saturday night, Michael English, former Gaither Vocal Band member and successful solo artist David Phelps, new artists Katie Giguere, Christopher Lee, Keith Garrett and Scott Riggan will perform at an event to benefit the fight against Muscular Dystrophy. The event is called "A Place Called Hope: Michael English and Friends Benefit for MDA", and it will take place Saturday, August 6th at the Curb Event Center on the campus of Belmont University. Show begins at 7:30... doors open at 6:30. Tickets are $15 for Artist Circle and $10 General Admission. Tickets can be purchased at the Curb Event Center box office, (615) 460-8500 or any Ticketmaster location, (615) 355-9600 or http://www.ticketmaster.com.


8/1/5 GRAMMY Award-winning Audio Adrenaline kicks into fall, headlining its "Until My Heart Caves In" 20-plus-city major market tour. The band is touring in support of their highly anticipated, ninth studio album, Until My Heart Caves In, releasing on ForeFront Records August 30. Details at Audio Adrenaline Fall Tour.



Swag out with Christian Activities Merchandise!