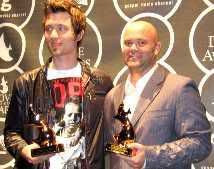 The winner of the 2008 SPANISH LANGUAGE ALBUM Dove Award last night was De Corazon A Corazon; Seth Condrey; Seth Condrey, Mark Balltzglier; CanZion. The complete list of winners can be found at: 39th Annual Dove Award Winners.

4/16/8 Dove Award winner and bilingual recording artist, Leonardo, has been invited to be a Presenter at the 39th Annual GMA Dove Awards (www.doveawards.com) national telecast, according to the Gospel Music Association (GMA) and Gospel Music Channel (GMC). Gospel and Christian music's biggest night of the year will take place live on Wednesday, April 23, 2008 in Nashville at the Grand Ole Opry House and will be broadcast LIVE nationwide on the Gospel Music Channel television network from 8 – 10 p.m. (ET). Leonardo received the 2006 Dove Award for Spanish Album of the Year and is now about to release his long awaited first English CD titled "HOPE". Along with Leonardo, American Idol® winner Jordin Sparks; American Idol® previous finalists Phil Stacey, Mandisa and Chris Sligh; country icons Wynonna and Ricky Scaggs; Michael W. Smith, Chris Tomlin, Casting Crowns, Switchfoot, Kirk Franklin, Mark Lowry, TobyMac, Sandi Patty, Mark Schultz; ABC Good Morning America comedy contributor Anita Renfroe and from the NFL, Cincinnati Bengals TE Ben Utecht are among the latest presenters and performers added to the increasingly luminous line-up for what promises to be a spectacular evening of music.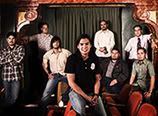 4/1/8 Dove Award-winning Word recording artist Salvador returns April 29 with Aware, the acclaimed Latin/pop band's eighth recording. Produced by group members Nic Gonzales and Chris Bevins, along with Otto Price (dcTalk, GRITS), Aware features 11 selections exploring themes of thankfulness and selflessness. Gonzales co-penned nine songs, and Aware also features songwriting credits from Jaci Velasquez, Rick Cua, Don and Lori Chaffer, Sam Mizell and Jason Ingram, among others. Highlights of the album include the title cut, which is also the project's debut single; the Latin-influenced "Llevame"; the thought-provoking "What Would It Be Like"; as well as "Everybody Needs You," a duet with Velasquez. In conjunction with Pope Benedict XVI's upcoming U.S. visit, Salvador has been invited to perform at the Papal Youth Rally on April 19 at St. Joseph's Seminary in Yonkers, New York. The event is expected to draw up to 25,000 people. Known for their show-stopping, improvisational live performances, Salvador is currently appearing across the country, and the group is slated for a European tour later this spring.
Latin Christian Music Message Board.
Visit the Christian Activities Music Store
Check for concert dates on our CALENDAR.

Use this link to shop Amazon.com and support Christian Activities