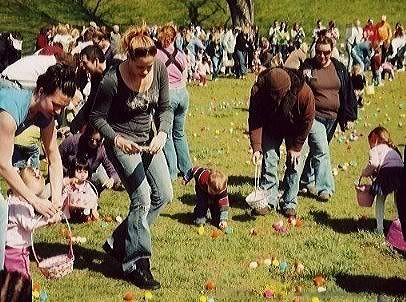 Bellevue Baptist Church in Nashville, Tennessee, hosted its annual free community-wide egg hunt on Saturday, March 22nd, 2008. The community event for pre-school through sixth grade kids took place from 11:00 a.m. to 1:00 p.m. at Red Caboose Park in Nashville's Bellevue community.
More than 6oo children registered for the event, and more bypassed the registration tables. Eager little ones and their parents lined up around the designated areas, dotted with nearly 20,000 colorful eggs. The youngest hunters did not understand the need to wait when the pretty multi-color eggs were right there in front of them, and every so often a small tyke would dart in to grab an enticing egg while the unwary parent was looking the other way. Finally the whistle blew and the youngest group took the field first with their pastel baskets soon lined with eggs: orange, yellow, green, blue and pink.
The colorful eggs were stuffed with candy, scripture verses and slips good for additional prizes. All the candy and prizes were donated by Bellevue Baptist members, and the eggs were lovingly hand stuffed by church members after services prior to the egg hunt. ChristianActvities.com also donated a portion of the CDs and videos we receive as prizes for the egg hunt.Nearly 1,000 prizes were given away.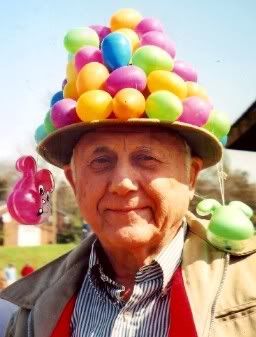 The Easter bunny was on hand as well as face painting, free snacks, and a prize table loaded with goodies. Roger Shelton, the father of Bellevue Baptist's pastor Mike Shelton, was also there with his colorful egg hat.
The event has become one of Bellevue's most anticipated gatherings and is one of the biggest egg hunts in the Nashville area. Collection bins lined the paths of Red Caboose Park as the church collected the used plastic eggs for next year's egg hunt which is already in the planning stages.
If anyone found a gold Easter basket pin/brooch with pastel eggs which I lost at the egg hunt, please turn it in to the Bellevue Baptist Church office (phone: 646-2711) on Highway 70 South, across from Red Caboose Park. Thanks!
Related Story
Free Community-Wide Egg Hunt in Bellevue


Use this link to shop Amazon.com and support Christian Activities