Barbie Doll at the Dove Awards, from our archives
In 1998, Barbie Bazaar magazine accepted a budding young journalist's pitch to write a story about Christian artists who had played with Barbie dolls at GMA Dove Awards week. The resulting story featured comments and photos from a wide variety of Christian artists including: Ashley Cleveland, Pam Thum, Chonda Pierce, Erin O'Donnell, Lisa Bevill, Sheri Easter, Mel Tunney, Melissa Austin, Amy Wolter, Jeni Varnadeau, Nicole Leonti, Kim Thomas, and Naomi Judd.
This article on Barbie Doll at the Dove Awards ran in Barbie Bazaar Magazine and was later published on the Christian Activities old Earthlink website and eventually archived on our Geocities site. But maybe it is time to bring Barbie at the Dove Awards home to Christian Activities.
Barbie Goes to the Doves
Three days after a tornado touched down in downtown Nashville, another whirlwind hit Nashville as the Gospel Music Association brought Gospel Music Week (GMA week) and the 29th Annual Dove Awards to town. An awards celebration in the same vein as the Grammy Awards, the Dove Awards have helped bring artists like Amy Grant, Michael W. Smith, Michael English, BeBe and CeCe Winans, and Jars of Clay to national prominence.
This year's GMA week culminated in a star-studded gala as Dove Awards hosts, Barbie doll look-alike Naomi Judd (more on that below) and John Tesh, hosted such luminaries as Michael W. Smith, Whitney Houston, Amy Grant, Andy Griffith, Jars of Clay, James Ingram, Bob Carlisle, Michael Crawford, CeCe Winans, and Clarence Gilyard at the Dove Awards held in Nashville's new arena.
During the preceding week, Nashville's Stouffer Hotel was a cornucopia of artist activity as people from all over the world gathered for seminars, showcases, and concerts which took place in cafes and auditoriums all over town. The Hard Rock Café, Wildhorse Saloon, the Ryman Auditorium, and Planet Hollywood hosted several exclusive events, as artists from the four corners of the globe gathered around the Stouffer to be seen, heard, and interviewed.
Barbie Doll at GMA Week & Dove Awards
There was a new buzz word at GMA week this year, and the buzz was Barbie! The elite of the CCM industry were in town and what more interesting a question to ask these celebrities than if they played with Barbies as children or if they own a Barbie today?
As Christian artists were interviewed during the week, a strange phenomena began to occur. As artists brought their favorite Barbies dolls to be photographed for the article, other artists would stop by and start talking about their favorite Barbie memories. Several times normal GMA activities ceased for a moment in a suite, lobby or restaurant as grown-up girls played Barbie again. Yes, Barbie Doll was a special guest at several GMA Dove Awards functions this year.
Barbie Girls at the 1998 Dove Awards
Lisa Bevill
When you are watching your favorite show on TV and the commercials come on, one of the voices you are sure to hear is Lisa Bevill. From Coca-Cola, Pepsi, and Diet Orange Crush, to McDonalds, Jeep Eagle, and BC Powder, one of the melodious yet perky voices that persuades you to buy Wriggly's Gum, Dominoes Pizza, and Ford cars, belongs to this talented lady.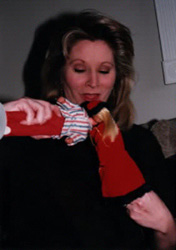 "I think I got my first Barbie when I was nine or ten," says Lisa. "I remember snooping in my mom's closet before Christmas and finding the first one — the suntan Malibu." Lisa's mother picked up many outfits and clothes at garage sales where she also picked up a Barbie Corvette. "It was a kelley green two-seater." Lisa had the car for six months until one day she was playing with it in the driveway. "My aunt backed over it and crushed half of it," sighs Lisa. Lisa claims she had tons of furniture. "I kept it all in a big typewriter box and every Sunday afternoon I would empty out that typewriter box and it would become the garage." (This must have been prior to the Corvette debacle.) "I spent a lot of good hours escaping from life with those dolls."
Lisa became a background vocalist right out of college. In 1991 she started her solo career recording three albums on Sparrow (My Freedom), Vireo/Sparrow (All Because of You), and EMI/Sparrow (Love of Heaven). Married in 1987, Lisa is the mother of two boys, Cody (9) and Trevor (4), so there are no more Barbie collectors in the family! Lisa's video "My Chaperone" was nominated for a Dove award and won a Houston Film Video award. Her song "If I Were His" was voted #1 Inspirational Song of 1997 by CCM Magazine. Lisa also was a celebrity guest at a meet and greet artist-DJ reception during this year's GMA week.
After having an article published in Brio Magazine where Lisa shared her story about suffering with low self-esteem as a girl a lot of girls wrote in saying, "It looks like from your pictures you have it all together. How can you have ever felt fat and ugly?" This led Lisa to start a girls camp called Place in the Sun where Lisa talks honestly with girls about issues the girls want to discuss: makeup, boys, sex, self-esteem. She shows them before and after photos of well-known pop artists, "It really takes a load off their shoulders to see these glamorous artists with crows feet, blemishes and double chins!"
Lisa says if there is one message she wants to convey it is this: "You don't have to look like the cover of a magazine or Barbie-perfect. Just love yourself — love how God made you to be."
Melissa Austin & Amy Wolter
Although she cannot remember when she got her first Barbie, Broadway actress Melissa Austin got her first one as a young child and has been hooked on them ever since. She wound up with about eight Barbies and friends plus the Sunshine Family until she loaned them to her younger cousins. "Something mysterious happened to my dolls in their attic and I haven't seen them since then!" Melissa's favorite was her Malibu. Did Melissa's playacting with Barbies foretell the future?
As a child Melissa modeled and continued modeling through college. "I had been performing, singing and dancing all along, but I began performing professionally in college at Opryland" where she was a featured dancer. She started doing more professional theatre, commercials and music videos including a Sawyer Brown video "My Baby's Gone"; and a TV pilot called Nashville Beat. Her big break came in her fourth year of Belmont when she was cast in the first national tour of Les Miz as part of the ensemble and as understudy to the lead roles of Eponine and Cosette. "It was one of those tours that stay three months in each city, so I was only in Boston and D.C. before they sent me to New York in 1990 where I continued in the same track but with a different cast."
Melissa's main role up til this point had been as a boy in the barricades. Then the girl playing Cosette left the show. "I had done the role several times and the director offered me the position." For two years Melissa had one of the starring roles in one of Broadway's most popular productions performing opposite such noteworthy performers as Debbie Gibson. She has continued acting professionally, landing guest spots in One Life to Live, and supporting roles in a couple of TV movies, XXX's and OOO's (where she played the evil nanny) and Big Dreams and Broken Hearts: The Dottie West Story, where she played Dottie's sister Betty as a 17-year-old.
Now Melissa continues her acting as well persuing a career as a concert artist. Most recently she toured 20 cities with Amy Grant's 1997 Tennessee Christmas Tour "from Texas to New York to Florida." She is also writing ("I'm working on something theatrical") and she also had a starring role as Mary in the premier of the Word musical Two from Galilee.
A couple of years ago Melissa noticed other women were collecting Barbies. "I guess a little over two years ago someone bought me a Barbie for Christmas and I have been collecting since then." Melissa collects some of the new collector editions including the Mercantile series. "The reason I like Barbie so much is I love glamour and Barbie is glamorous."
Her friend Amy Wolter, a Christian artist, and part of the group Fighter, works in the Christian music industry and is a Barbie girl. "I had and still have the original brunette ponytail Barbie, the only one I owned," Amy states, noting that her doll's ponytail needs to be put back into place. She poses alongside Melissa with her brunette Barbie doll in hand.
Chonda Pierce
If you watch the Grand Ole Opry, you have probably laughed at the comedy routine of Chonda Pierce. A preacher's kid from Myrtle Beach, South Carolina, little Chonda got her first Barbie doll, a brunette straight-leg Skipper, when she was six years old. "My little four-year old sister got a blond Skipper and my big sister (eight years old) got a red head for Christmas that year." Chonda still has that little Skipper body…with a Malibu Barbie head head on it! "I had Skipper and a Midge and a fuzzy headed brunette Ken. We made their clothes because we were so broke." Chonda continued playing with Barbies until she was twelve. "Then I became a closet Barbie player cause people would tease you if you still played with Barbie when you were twelve or thirteen!"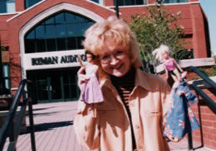 As the daughter of a conservative preacher, Chonda found Barbie could be and do everything. "She could date and wear makeup and she even had her own car! After a while I got real jealous of Barbie."
Chonda is another gal who got her first break at Opryland. "I didn't know how to sing or dance so the only thing left was comedy. I played Miss Minnie Pearl there for five and a half years." Then Chonda became a Christian and started telling humorous stories from her childhood. "People started calling me up to do banquets and someone said, Oh, you're a Christian comedian!" I didn't even know there was such a thing or that Christians could have fun like that!" Someone gave Chonda's tape to a popular Christian comedian, Mark Lowry, and he invited Chonda to tour 60 cities with him on the "Comic Belief Tour." Now Chonda has a book deal with Zondervan, a record deal with Myrrh Records, is touring with a woman's conference called "Women of Faith," and she is on the Opry every month or so. Chonda is living proof that laughter is the best medicine. "I met Miss Minnie several times and she was so supportive of a woman doing good clean humor, who talked about God and loved to laugh."
Chonda says that after years of playing with Barbie, "Barbie begins to live a life for you that you wish you could live. I have found it is alright to have role models and people you want to be like when you grow up. But one day you wake up and realize you need a more realistic role model. I will never have the waist size of Barbie, and then I realize God created each of us to be different and none of us will have a waist like Barbie!" Chonda add, "I've learned your role model needs to maybe come from heaven and not Mattel, because heaven will lighten up on us if we are not perfect… but Mattel keeps crankin' out those beautiful, perfect Barbie dolls!"
Erin O'Donnell
Erin O'Donnell, who performed at a private showcase during the busy GMA week, has the distinct honor of being the first gospel artist discovered and signed to a record deal off the Internet! Steve Clifford, President of Cadence Communications, flew down to the University of Miami to see Erin perform in a campus coffeehouse after visiting her web site. "Three months later we were in Nashville!" she exclaims.
Erin, who has toured with top Christian artists like Newsong and Susan Ashton, will have her second project, Scratching the Surface, released in August. Her husband and the writer of all her songs, was a presenter at last year's Dove awards.
When she was six, Erin started collecting Barbies. "When I was growing up there were no Dentist Barbie or other kinds; there was just Barbie!" Erin, who owned a Superstar Barbie, says her favorite thing to do was to make huge apartments out of Golden books. "My Barbie Townhouse wasn't big enough; we'd take up the whole room with these golden book houses!"
In middle school Erin put her dolls away, but she thinks her mother still has all of them. "For girls, Barbie is a way to find out more about yourself because you could live out all your fantasies with her and imagine who you wanted to be one day."
Of interesting note is the fact that the President of Cadence Communications who signed Erin off the Internet is himself the husband of a die-hard Barbie collector, Toni Clifford!
Jeni Varnadeau, Nicole Leonti and Kim Thomas
During Gospel Music Week most of the leading record companies reserve suites at the Stouffer Hotel where artists can hang out and where interviews can be conducted. The Pamplin Music suite on the 21st floor was the site of a Barbie party when Kim Thomas of the group Say So brought her Barbies in to be photographed and it was discovered two of her fellow artists were also former Barbie kids! More Barbie dolls were produced, and soon the coffee table in the Pamplin Suite was full of Barbie dolls and clothes as artists like John Elefante (formerly of Kansas) and Willie Ames ("Eight Is Enough," and "Charles in Charge") looked on in amazement!
Kim, who hails from Falls Church, Virginia, was introduced to Barbie in the late 60's and is still the proud owner of two beautiful TNT's and a trunk full of clothes. Kim's father was in the Navy so she moved around a lot. Luckily, she could take her Barbies with her. For Kim playing with Barbie was all about dressing them and making their environments. "We'd take over the whole house and take all the bottle caps and small things in the house to make accessories. It was all about accessories!" Kim's grandmother got into the spirit of things and made some lovely outfits Kim still has today. "Playing Barbies was a socializing tool. It helped me grow up and consider different careers."
When Kim was in the 4th grade her Vacation Bible School undertook a vast project — to recreate the whole town of Nazareth. "I was rather uninvolved until a girlfriend and I thought up 'Barbie of Nazareth' and we really got into putting Barbie into all the inns and other places."
Kim says she has heard all about the controversy over Barbie's body shape and people who say this creates problems for girls trying to live up to a perfect image. "I agree Barbie's shape is unrealistic, but it was never an issue for me. It was fantasy. I don't have wings, but I played fairies! It was just pretend."
Last year Say So performed at showcases at Planet Hollywood and the Hard Rock Café during GMA week, and this year Kim, who is also a painter, had one of her paintings exhibited at the Stouffer Hotel along with other celebrity painters. Kim feels playing Barbies gave her the opportunity to discover different things about herself and who she wanted to be. "I practiced being a human being with Barbie and learned to be confident being myself." Just like Barbie was designed and perfected by Mattel, Kim points out we, too, were designed intentionally.
Joining Kim in the Pamplin suite was another popular new artist, Jeni Varnadeau. In a recent interview for a Christian music magazine, Christian Activities Publications, Jeni disclosed she had Barbies as a young girl. Having seen her rock at the Hard Rock Cafe during last year's GMA showcases, I knew I had to learn more about the Barbie days of the pixy-ish singer with the versatile musical style!
Jeni had an older sister and she got hand-me-down dolls. "They were all blond Barbies, Malibus with perfect figures — Barbie the Babe!" Jeni also had a Jazzie, a Ken and a pink Barbie car. "My favorite part was getting clothes for my Barbie. My mom sewed and she made some outfits. I would try sewing, too, but the clothes I made were scary. It wasn't a pretty sight!"
One of the youngest and newest recording artists is 16-year-old Nikki Leonti from Corona, California. Her grandmother, Marjorie Bowman, worked for Mattel while Nikki's mother was growing up. "She gave my mom Barbies all the time. She'd take her to the factory and let her pick out whatever she wanted. My mom had hundreds of Barbies!"
Nikki preferred Skippers over Barbies. "I would cut their hair a little at a time until it was all gone," she admits. She received Barbie dolls as gifts, but she wouldn't play with them because her brothers would tease her. "I just did their hair." Some of Nikki's favorite dolls were the Barbie and the Rockers set.
Cute Nikki had a busy GMA week performing at three different GMA events. The little girl with the big voice had her first project, Shelter Me, released in August featuring her big ballad/adult contemporary style. I am just thankful that her hair stylist doesn't do to Nikki's hair what Nikki did to her poor Skippers!
Ashley Cleveland & Pam Thum
Recently two popular CCM artists have publicly stated that Barbie was tops on their list of childhood playthings. These two ladies along with Jeni Varnadeau were the original inspiration for this article.
Grammy award winning artist Ashley Cleveland, known for her powerful, gritty vocals and no-nonsense lyrics, listed Barbie doll as her favorite childhood toy in the Facts section of the biographical information on her web site (http://www.ashleycleveland.com/). In addition to winning a Grammy for Best Rock Gospel Album in 1996 (the only woman ever to win a Grammy award in this category), Ashley has captured four dove awards and numerous other honors and has appeared on more than 13 television shows including Saturday Night Live and Austin City Limits when she toured with the John Hiatt's band. This year found Ashley onstage at the Dove Awards performing with Amy Grant, Michael W. Smith, Phil Keaggy and other luminaries in a tribute to Rich Mullins, a Christian artist who was killed in an automobile accident a year ago.
Ashley received her first Barbie doll when she was six or seven years old. During the next several years Ashley acquired more Barbies, a Midge, Skipper, Allen and Ken among others. She especially liked her Barbie with Growing Pretty Hair. Ashley enjoyed going over to her best friend's house and building "Barbie kingdoms" as well as creating and acting out little soap operas with happy endings. When asked how long she collected Barbies, Ashley responded, "Too long! I must have been ten or eleven because all my friends informed me they were too old to play Barbie."
Barbie obviously had a profound influence on young Ashley. "I had a Ken with real hair that eventually fell out. I'm sure this created the foundation for my attraction to bald men. Ultimately, I married one!"
A magazine for the Christian music industry, Release Magazine, featured Pam Thum recently and quoted her as saying her favorite childhood toy was her Barbie doll. When Pam Thum was about five, she got her first Barbie. "I got a car and a whole little kitchen with running water, and food in the fridge and a dish washer." Pam's father was a missionary evangelist so the family traveled a great deal. "I'd be really lonely because we'd be leaving one place and going to another place. I'd sit in the back seat and play with my Barbie. I'd sing to her and pretend we were singing together and soon I wouldn't be sad anymore."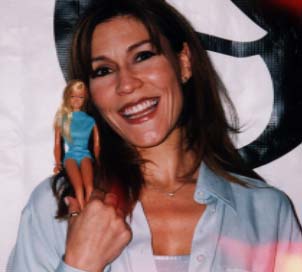 Sitting in the back of a car writing songs with her Barbie doll was the start of a career that Pam says had its roots in the dreams of a lonely five year old. She continued writing songs and singing until a friend of a friend took a rough recording to a leading record company, Word Records. The song "We Are an Army" was recorded as a single in 1985 and became a hit. Then a leading executive in gospel music, Gary McSpadden, took Pam under his wing, and soon she had a recording contract with Benson Records. Four records later, Pam is now touring Europe and South Africa performing her songs in concert. "Barbie and I are still writing songs together," Pam says with a smile.
Three times a Dove nominee, Pam performed on the Dove Awards program in 1994 when she was nominated for New Artist of the Year. Pam thinks Barbie is a good role model for young girls. "Barbie has the image of being confident, but sweet. There's nothing Barbie can't do if she puts her mind to it." Pam says Barbie's persona is not one that would be stuck up or mean. "Girls who like Barbie know this is just a doll, but you can be what you want to be. Through God, all things are possible."
Sheri Easter
I hit the jackpot when I contacted Sheri Easter's record company to see if any of their artists collected Barbies. It turns out Sheri could easily open her own store if she were remotely inclined to part with any of her beauties. Sheri, herself a pretty, petite blond who lives in Georgia, started collecting Barbie dolls when she was a little girl. Her dolls "sort of got pushed aside" until 1990 when she and her husband Jeff built their first house. At that time she visited a friend who had a lot of Barbie dolls and Sheri says she fell in love with them. Now Sheri has more than 90 dolls… and her four-year-old daughter Morgan has over 150! "That's just the vinyl dolls and doesn't include the porcelains or other things."
Born in September of 1993, Morgan's first doll was the '93 Happy Holiday. Now she has the entire collection. Mama Sheri's first doll was a blond standard Barbie. "Barbie was THE cool teen doll when I was growing up," says Sheri. "I probably had 20 or 25. Now at least five of those are gone or missing their heads." Sheri has fond memories of taking her dolls to school and trading doll clothes with friends. "My mom was real big on whatever I had an interest in and eventually I had the carousel kitchen, a plain, a Barbie house, the Barbie townhouse, van, boat, pool, fitness center, and a hair-styling Barbie head." Now Sheri, who has every porcelain made and ten different series especially enjoys the Couture collection, the Seasons, and the Gone with the Wind set. "You cannot be from the South and NOT be a fan of Gone with the Wind!" Her husband Jeff tells everybody his worst words to hear are, "But Jeff, she's the first in a series!"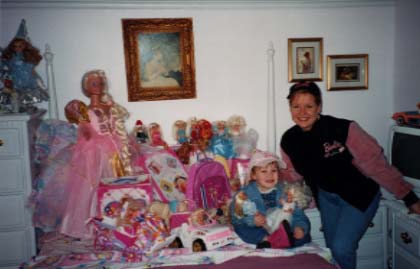 A veteran county-gospel artist, Sheri has had seven albums nominated for Dove Awards and has twice performed at the Dove Awarsd show. She says in her thirteen-year career she has probably performed at Dove showcases ten different years.
Sheri says Barbie is a wonderful collection for mothers and daughters to share and is a hobby that brings her much joy. One of Sheri's favorite early dolls was a "mod, groovin' Barbie" — the Live Action Barbie, who came with a stage. "It is neat that 34 years later I would be performing on a stage." It looks like once again Barbie showed a little girl you really can be whatever you want to be. By the way, Sheri adds, "Barbie Bazaar HAS to have me in their article; I've been a subscriber for four years!"
Mel Tunney
First Call is a perennial favorite group of CCM lovers. Originally a trio of talented studio musicians, First Call helped launch Mel Tunney's career in contemporary Christian music.
During the 70's, Mel had every kind of Barbie doll made at the time: Barbies, three Kens, Skippers, and a Midge left over from the 60's given to her by a loving grandmother."I had a twist 'n turn and Superstars, everything, and I was very very possessive." Little Mel didnít even want her friends to look at her dolls! One day when she was eleven years old, Mel returned from school to find her little six-year-old sister Missy and her friend Dee Dee had taken all the Barbies belonging to both sisters, and they had set them all over their bedroom. "It took forever to sort them all out." Needless to say, this made young Mel quite furious with little Missy.
When Mel was thirteen, she decided that being a teenager, she was too old to play with Barbies anymore. "I also felt I was a little too consumed with them." So for Christmas that year, Mel put all all her Barbies and accessories, packed them up in two large trash bags, wrapped them up, put them under the tree, and gave them to her sister. "It was my greatest act of sacrificial giving. From then on we would play Barbies together, even though I was too old to still be playing with them."
Mel still does background vocals with Bonnie and Mart from First call, and the trio averages one reunion concert a month. However, now Mel and her husband Dick tour and perform together and are finishing up their fourth album together. "We perform every weekend in churches, encouraging families and marriages to stay together." It sounds like the lessons a young girl of eleven learned about sharing with her sister took root and foreshadowed a career in ministry to families.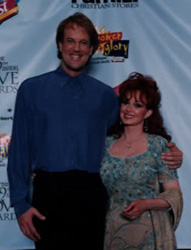 Naomi Judd
The co-host of the 1998 Dove Awards program, country music legend Naomi Judd, has her own interesting Barbie story to share. In a survey late last year, Entertainment Weekly magazine asked readers to vote on which celebrity most closely resembled the prototype photos of Mattel's revamped "new look" Barbie doll. The results were published in the January 16 issue, and Naomi Judd won by a landslide! Naomi says, "When Mattel first announced the new Barbie, I happened to be on the road. I opened my hotel room to get the morning paper and looked down to see my image staring back at me. My first reaction was, 'Oh, no, what have I done now?' Then I realized it wasn't about me at all but was a photo of the new Barbie doll. I admit my own dimensions have changed with age like Barbie's!" Naomi laughingly says she thinks she deserves a prize and wants her percentage of the royalties. Then she made the following request to Barbie Bazaar readers: "Please don't call my husband 'Ken' to his face." Maybe we should get Mattel to make her co-host John Tesh the "new look" Ken?
While Barbie may not have actually made an appearance on the Dove Awards show, she was there in spirit. After all,many of the talented and hard-working women who were on hand all week to sing, host and otherwise participate in the Dove Awards had been Barbie girls as children. Some still were. So 1998 will forever be remembered as the year Barbie doll went to the Dove Awards.
From our archives April 8, 1998
Related Articles: