Christian Activities publisher Kathryn E. Darden is a Nashville native and graduate of Hillsboro High School and David Lipscomb University. She has been working in Christian ministry since serving as Development Director for Nashville Youth for Christ in the 1980's.
While Darden was working as Director of Development for Koinonia Christian Ministries where artists like Amy Grant, Michael W. Smith and others got their start in the music business, she began publishing two music industry handouts to better serve the Nashville community.
One, the Creative ReSOURCE Directory, was an annual listing of businesses which serve the Christian music industry. The other was the Koinonia Concert Calendar, a free monthly calendar of church and concert information for the Nashville area.
Christian Activities Nashville
This eventually led to Darden developing a newsletter format called Christian Activities Nashville which premiered in October 1992 and grew into a magazine format in 1994. The print publication was closed in 2008. The ChristianActivities.com website launched in 1996 and now boasts around 80,000 unique visitors a month.
Other Positions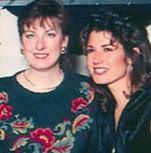 Darden has served as a school teacher at Ezell-Harding Christian School, at Nashville Christian School and at HG Hill Middle School. She has taught Sunday School and done summer mission work in Mexico, Italy and Switzerland. Co-founder and former co-director of Tennessee's Citizens Against Waste, past president of the Hillsboro Road Civitan Club and the founder and former president of the professional organization, Women in Christian Music, Darden has also written for many newspapers, magazines and websites including Examiner.com, Yahoo, The Tennessean, The Westview and others. She has also won numerous writing and professional awards.
Rodan + Fields Dermatologists
Darden made the decision to partner with the doctors who created Proactiv in 2010 soon after they launched their new lines for again skin. Impressed by the integrity of the brand and the efficacy of the products, Darden became an independent Rodan + Fields consultant which is how she now underwrites the publication of Christian Activities Nashville and her other work in the local Christian music industry. The Rodan + Fields Soothe line healed Darden's own rosacea and rejuvenated her skin which reinforced her strong belief in the products. To find out more about the Rodan + Fields products or the Rodan and Fields business, contact Darden at skin_and_health@yahoo.com.
Updated July 2010

Publisher Kathryn Darden in 2000

More About Kathryn Darden
Christian Activities Publisher Kathryn E. Darden Announces Partnership with Rodan + Fields
Christian Activities Publisher Garners National Poetry Recognition
More About Us:
Christian Magazine Grew From Calendar

History of Christian Activities Magazine


Use this link to shop Amazon.com and support Christian Activities