President George W. Bush honored the recipients of the Presidential Medal of Freedom on Wednesday, November 9, 2005. Established by Executive Order 11085 in 1963, the Medal may be awarded by the President "to any person who has made an especially meritorious contribution to (1) the security or national interests of the United States, or (2) world peace, or (3) cultural or other significant public or private endeavors."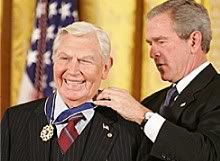 Among those honored with the Nation's highest civil award was Andy Griffith. Griffith first achieved national attention in the 1950s for his standup comedy routines such as "What It Was Was Football." He went on to star in popular television shows like "The Andy Griffith Show" and "Matlock" as well as Broadway productions and films.
President Bush made the following remarks at the ceremony about Griffith:


"Here at the White House, we get an interesting mix of visitors. Already
today I've met with the Secretary of State, Secretary of Defense, and
the Dalai Lama -- and the Sheriff of Mayberry. Andy Griffith
first came to the people's attention with his gift for storytelling --
and his own life is a mighty fine story by itself. He started out as a
high school teacher, and in his amazing career he has gained fame as an
actor, and received a Grammy Award for his singing. He will always be
remembered for the 'Andy Griffith Show' and 'Matlock.' Yet, he has also
given powerful dramatic performances in such movies as 'A Face in the
Crowd.'"

"Looking back on his Mayberry days, Andy explained the timeless appeal of
the show. He said 'it was about love. Barney would set himself up for a
fall, and Andy would be there to catch him.' The enduring
appeal of the show has always depended -- and still does -- on the
simplicity and sweetness and rectitude of the man behind the badge. TV
shows come and go, but there's only one Andy Griffith. And we thank him
for being such a friendly and beloved presence in our American life."
The citation for Andy Samuel Griffith:
Andy Griffith is one of America's best-known and most beloved
entertainers. After his introduction to a national audience as a
stand-up comedian on The Ed Sullivan Show in the 1950s, he went on to
star in such celebrated television shows as The Andy Griffith Show and
Matlock. As a legend of the stage, cinema, and television, Andy Griffith
has built an enduring career and set a standard of excellence in
entertainment. He is a man of humor, integrity, and compassion. The
United States honors Andy Griffith for demonstrating the finest
qualities of our country and for a lifetime of memorable performances
that have brought joy to millions of Americans of all ages.
Others receiving the 2005 award: Muhammad Ali, Carol Burnett, Vinton Cerf and Robert Kahn, Robert Conquest, Aretha Franklin, Alan Greenspan, Paul Harvey, Sonny Montgomery, General Richard B. Myers, Jack Nicklaus, Frank Robinson, Paul Rusesabagina.
RELATED ARTICLES & LINKS:
Andy Griffith Releases Bound For The Promised Land: The Best of Andy Griffith Hymns
Andy Griffith to Attend Maybery Days
Andy Griffith on TVLand Awards
Andy Griffith Nominated for a Dove Award
Andy Griffith to Release The Christmas Guest
Statue of Andy Griffith Unveiled in Raleigh
National Sheriffs' Association Convention Held in Nashville
Andy Griffith Takes Opry by Storm
Andy Griffith Reception in Nashville
Andy Griffith to Perform on Grand Ole Opry
Return to Mayberry; Andy Griffith Discovers You Can Go Home Again
Andy Griffith Parkway Dedication
Andy Griffith CD's can be found at the Christian Activities Music & Books Store


Christian Activities Andy Griffith Forum

Christian Activities Mayberry Forum

Mrs Wileys Social Club - (Discussion Board for Mayberry Singles)


Live in Tennessee? Love "The Andy Griffith Show?" Click to subscribe to TennesseeTAGS